We are shaping a business future
LDC TRADING is a private trading organization based in Europe, in the historical city of Athens, which has as its expertise the achievement of valued partnerships.
Our business philosophy is centered on the principles of reliability, positive attitude and unwavering drive. Our goal is to respond to our partners needs as soon as possible through our extensive network in Europe, Asia, Africa, etc.
Our services are related to the following core business units: building successful partnerships through our vast business network, international trade, reliable consulting and mediation, project management, defense and security solutions.
''The secret of change is to focus all your energy not on fighting the old but on building the new''.
''The beginning is the most important part of the work''.
''Small opportunities are often the beginning of great enterprises''.
We bring the right people together to challenge established thinking and drive transformation.
Our mission is to achieve sustainable and healthy growth in all spheres of our activities by adopting strategies to align our growth with the economic prospects of the region and events across the world, without compromising on care for nature and humanity.
Once committed to an idea, we have the ability to make it a reality. In this way, we develop an international network of successful and long-term partnerships with established international and local companies creating opportunities for new ideas and collaborations.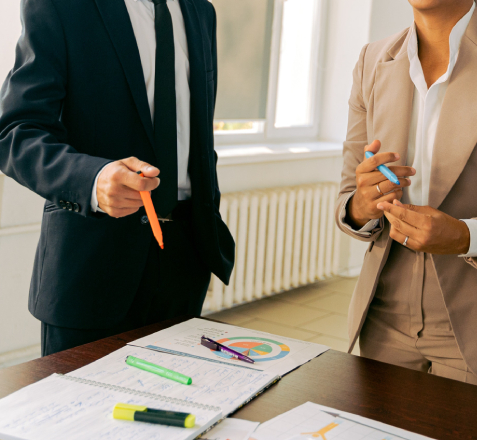 The company's strategic objective for continuous progress, both at national and international level, is the competitiveness resulting from innovation.
Our vision is to maintain the already existing business collaborations, but also to build new partnerships on a global level that will set as primary goals:
1. the benefit of those involved
2. the maintenance of their collaboration
3. the possibility of future cooperation.
     1. We uphold fair and transparent business practices.
– We respect the law and apply sound business ethics.
– We support open and fair competition.
– We cultivate fair business relationships with our partners.
    2. We enhance corporate value through continuous growth.
– We create reliable business partnerships.
– We actively seek and nurture businesses with growth potential.
– We are constantly looking for the best solution.
– We ensure core competencies necessary for future growth.
    3. We follow business practices that are safe.
– We provide pleasant and safe working environments.
– We prevent accidents through our strong Safety Code.
    4. We fulfill our obligations towards society and the citizen.
– We strive to enhance community culture and welfare.
– We contribute to national development by creating jobs and paying taxes.
– We contribute to human welfare by creating partnerships that are useful to humans.
    5. We support a working management culture based on mutual respect and trust.
– We constantly cultivate relationships of trust and equality.
– We embrace healthy antagonism.
– We strive to improve the quality of life of our employees and encourage self-development of employees.